To figure out what you should be paying to keep your dental practice's IT systems in good working order involves deciding which IT services you want on an ongoing basis if any. Considering that ensuring that your system and its use are maintained in compliance with HIPAA laws, working with an experienced Dental IT Managed Services Provider (MSP) is advisable.
The common alternative to having your IT systems managed for you is to call in an IT support service that offers occasional support, called Break/Fix IT support when you have an emergency or need to have some IT task done. But, the high cost of such emergency services is another reason to look into Managed IT Services and find out what makes the best sense for your dental practice.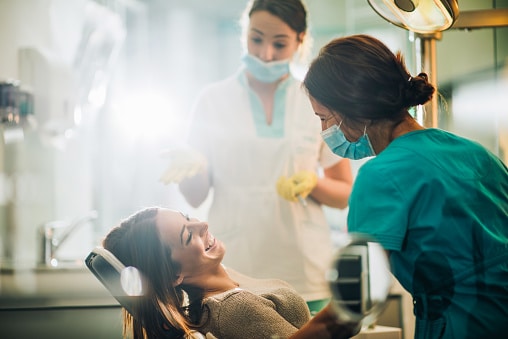 Below is the interview portion of a case study on dental IT services client experience. It serves to indicate typical IT systems needs and services solutions for small dental practice startups. The brief case analysis that follows the interview lays out the considerations for dental practices in selecting the most practical and cost-effective dental IT services.
CASE STUDY: Bluebell Family Dental
This is an excerpt from an interview with Dr. Quiggins, owner of Bluebell Family Dental, part of a case study of client experience during Bluebell's term of service from NOVA Computer Solutions.
Asked why she chose NOVA as her MSP, she explained how Bluebell went about identifying an IT services company.
"We did a lot of research before picking an IT company. My sister-in-law runs her own company in California, so she was involved in ensuring that I had the right team on my side. NOVA was by far the most comprehensive, transparent, thorough, and professional provider."
Dr. Quiggins explained some of the pain points her dental practice was experiencing and how NOVA helped resolve those.
"The office was a start-up practice, so there was a lot of initial set-up and networking that needed to be done so that we could work efficiently. NOVA was able to quickly complete everything with a high degree of attention to detail."
She recalled the technologies that NOVA used in the solution for her new dental practice's specific needs. "We have two dental software programs, Open Dental and EZDent, both of which must be HIPAA Compliant and secured with a SonicWall. And, they set up Microsoft 365 and Outlook." Asked if NOVA worked with any partners, the doctor explained that they have all Dell computers.
The client was asked if NOVA had ever gone above and beyond expectations. Dr. Quiggins was very enthusiastic about her overall experience in working with NOVA.
"Above and beyond is an understatement. They have exceeded all of my expectations—ten-fold. The entire team is a pleasure to work with. The installation was seamless. I told them exactly what I was hoping to accomplish; they listened to every detail and ensured that it was completed correctly.
"After the initial installation, I called a few times with minor concerns, and they were able to address anything, on the spot, by logging in remotely without any interruption to my schedule."
Asked about the outcome of NOVA's work to resolve issues, Dr. Quiggins emphasized that everything has been working flawlessly.
The doctor discussed how working with NOVA has helped her practice overall. "I am trained as a dentist, which is not anything related to IT. It is a foreign language to me, and NOVA has taken that headache off my shoulders and allowed me to focus on my business. In dentistry, it is also important to ensure that our records are secure, and NOVA maintains our records to make sure that we comply. All of these things help the office run smoothly and help me sleep better at night."
The client said she would eagerly recommend NOVA's services to other organizations and that her only suggestion for NOVA is to, "Keep up the great work!"
Dental Practice IT Support Comparative Pricing Analysis
The above portion of the study reports on the client's experience in working with NOVA Computer Solutions during the setup of new IT equipment and systems as part of the startup of a new dental office. The study provides indicators of appropriate approaches to determining how much a new dental practice should expect to pay for IT systems installation and ongoing IT support services.
Hardware — Of course, hardware costs to set up a new dental practice's IT system depend on the number and type of components, including servers, desktop computers, laptops, devices, fax machines, printers and office phone systems equipment, etc.
IT Support Services — Costs for IT support will depend on the level of services a dental practice owner chooses. Pricing varies widely between the two most common pricing arrangements for IT support services—Break/Fix IT Support and Managed IT Services.
Choosing Break/Fix IT Support Or Managed IT Services
Break/Fix IT Support
A dental practice owner may prefer to pay only for emergency IT services and occasional other work on the dental office IT equipment or software systems. Using Break/Fix service means that the dental practice does not have to pay a fee for routine IT systems management and maintenance.
However, break/fix can end up costing considerably more over a given period than Managed IT Services after all—even for a newer dental office—due to several contributors to higher IT services costs overall:
The high cost of emergency IT services, which, due to myriad potential causes, are just as likely to become necessary in a newer practice as in a longer-established one.
The comparatively lower team productivity due to slower or generally less efficient IT systems and chronic issues that staff must work around to get things done. Managed IT Services include proactive identification and correction of systems issues and inefficiencies.
Additionally, the risk of noncompliance with HIPAA requirements due to insufficient IT systems management and oversight of compliance responsibilities involving IT systems can be incomparably higher for dental practices that opt to operate without IT assistance on compliance responsibilities.
Managed IT Services
A dental practice owner who elects to pay a set fee periodically for routine IT services receives remote monitoring of IT systems and service focused on preventing issues from becoming costly problems that can impact dental office daily operations.
Managed IT Services fees are based on the kinds and extent of services that the client chooses to include in their service agreement. Pricing is likely to include, for example, the numbers and kinds of office machines included and the types of services included in the IT service agreement.
Services offered under Managed IT Services agreements for dental practices include these and others:
Layered Security

Virus Protection

24/7 Helpdesk Support

HIPAA Compliance

Web Hosting

Email Administration

Cloud Services

Network Monitoring

Data Backup & Storage
CONCLUSION
As in the case of Bluebell, in which Dr. Quiggins has elected to continue with NOVA on an MSP arrangement when comparing the two, IT services pricing structures, Managed IT Services stand out as the more practical, lower-risk option. Dental professionals who want to minimize the risks of financial and reputational costs due to downtime from unattended new systems issues, or due to HIPAA non-compliance are likely to choose managed services for their IT systems.
For either new startups or established dental practices looking to scale their IT systems for growth, a thorough assessment of IT equipment, software systems and service features to be included in an IT services agreement will allow a fully-informed calculation of an appropriate fee for services.
For More Information About Pricing Dental IT Services
If you would like more information about IT Services for dentists and pricing for your dental office, contact NOVA Computer Solutions anytime at (888) 711-3234, to schedule your complete, no-obligation IT systems assessment.