NOVA Works With Dentists Across The United States, Keeping Them Cyber Secure Around The Clock
NOVA Computer Solutions is a technology service provider working with dental professionals. Our goal is to provide our clients with the best possible service and support and to become the trusted technology partner for small dental practices and sizeable dental service organizations across the United States.
We offer various services, from IT support and consulting to complete turnkey solutions. We pride ourselves on our ability to provide customized solutions that meet the specific needs of our clients. Whether you are looking for a simple IT solution or a complete turnkey solution, NOVA Computer Solutions is your right partner.
Contact us today to learn more about our services and how we can help you optimize your practice.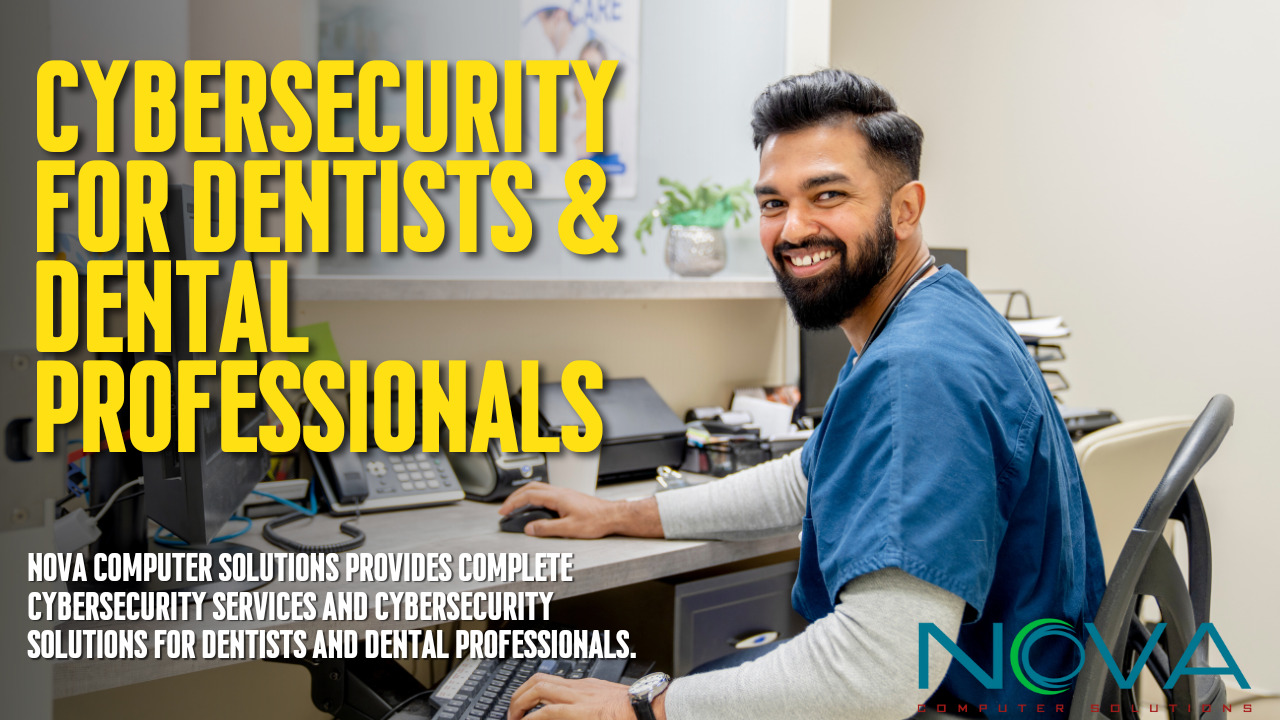 Why Dental Practices Large & Small Need To Be Concerned About Cybersecurity
It is no secret that the dental industry is a target for cybercriminals. Dental practices of all sizes are increasingly becoming the victims of scammers and hackers looking to disrupt operations and steal hard-earned money.
While large dental practices may be more likely to be the target of a direct attack, small practices are not immune to the threat of cybercrime. Small dental practices are often the victims of indirect aggression, such as phishing scams and malware infections.
NOVA Computer Solutions is committed to ending the threat of cybersecurity threats against the dental industry across the United States. We offer comprehensive security solutions to protect your practice from ever-evolving threats.
From malware removal and prevention to phishing protection and data encryption, we have the tools and experience to keep your practice safe from cybercrime. Contact us today to learn more about our cybersecurity solutions for dental practices.
Protecting Patient Data Must Be The Highest Priority
At NOVA Computer Solutions, we understand how important it is to protect your patients' data. We have developed a suite of cybersecurity technologies designed to be the first defense against those seeking to expose patient data, social security numbers, credit cards, and banking information. Our technologies are constantly evolving to stay ahead of the latest threats, and we take all measures necessary to ensure the safety of your ePHI.
You can rest assured that NOVA protects your patients' data. Contact us today to learn more about how we can help you safeguard your practice.
NOVA Computer Solutions ensures your dental practice meets every compliance requirement, from HIPAA to PCI DSS. We are experts in the compliance and regulatory requirements facing dentists today.
We will work with you to ensure your practice complies with all federal, state, and local regulations. We will also provide you with the resources you need to stay up-to-date on the latest compliance requirements. NOVA Computer Solutions is committed to helping you run a compliant dental practice. Contact us today to learn more about our services.
Training All Dental Professionals To Recognize A Cybersecurity Threat
NOVA Computer Solutions is committed to training your dental office and staff to recognize any cybersecurity threats that may come their way. Our dental cybersecurity professionals meet with your staff regularly to educate them on spotting a ransomware attack, a phishing email, or even an SMS phishing text message (smishing). By ensuring your staff has the cybersecurity knowledge they need, we can help prevent your dental practice from becoming another victim of a cyber breach. NOVA Computer Solutions is dedicated to protecting your dental practice from all cyber threats. Contact us today to learn more about our dental cybersecurity services.
American Dental Association Cybersecurity Mandates
In the wake of increasing cyber attacks on all businesses, dental practices are being targeted more frequently. These attacks can lead to the loss of patient data, decreased productivity, and expensive recovery costs.
To help protect dental practices, numerous state and national dental associations are introducing cybersecurity mandates. Soon, state and federal government mandates for cybersecurity will be imposed on dental practices. As a result, dental practices must get ahead of the changing cybersecurity landscape.
Dental practices will be eligible for membership benefits in these organizations by demonstrating a certain level of cybersecurity protection. Dental practices can help prevent costly future disruptions by taking steps to improve cybersecurity now.
We`ve been with NOVA Computer Solutions for over 16 years.
We`ve been with NOVA Computer Solutions for over 16 years, and never had any reason to switch because they kept our network safe, up to date, and always backed up. Never needed to use the backup this entire time. Highly recommended.
Cybersecurity Insurance For Dental Practices
Dental professionals have long recognized the importance of insurance to protect their practices. In an accident or lawsuit, insurance can help cover the costs of damages and legal fees.
In recent years, however, the insurance landscape has changed, and dental practices must now ensure they are adequately protected against cyber threats. Cybersecurity insurance is designed to cover the costs associated with a data breach or other cyberattack, which is becoming increasingly difficult to obtain. The annual premiums for cybersecurity insurance are also skyrocketing, making it difficult for dental practices to budget for this essential coverage.
NOVA Computer Solutions has worked with numerous dental professionals nationwide, helping them prepare and successfully apply for cybersecurity insurance. We understand the importance of this coverage and can help you ensure your practice is fully protected against the ever-growing threat of cybercrime.
Why NOVA As Your Dental IT Services Provider Over Other Dental IT Firms
At NOVA Computer Solutions, we have always been 100% dedicated to providing comprehensive IT services and cybersecurity solutions to dental practices across the United States.
We firmly believe that by focusing exclusively on the dental industry, we can better understand the unique IT needs of our clients and recommend the most effective solutions. Whether you are a small dental practice or an extensive oral surgery center, we have the experience and knowledge to keep your IT systems running smoothly. In today's increasingly complex and dangerous cyber landscape, it is more important than ever to partner with a trusted IT provider who understands your specific industry.
You can be confident that your practice is in good hands with NOVA Computer Solutions.