Protect Patients and Staff with These Safe Reopening Practices for Dental Offices
People throughout the country are concerned about their health, often avoiding personal healthcare requirements such as regular dental cleanings or fillings. When the world is talking about the value of masks and social distancing, it can be hard to consider how close your dentist and hygienist will need to be to their patients to provide optimal levels of service. Patients and staff alike will look to practice leaders to create proactive processes and share the details with all constituents. Here's how you can create clear, concise recommendations that will help ensure your patients and your employees will be safe and reopening becomes a positive experience for everyone.
There are three key stages of reopening for dental facilities, and there are unique challenges and opportunities at each stage of the process.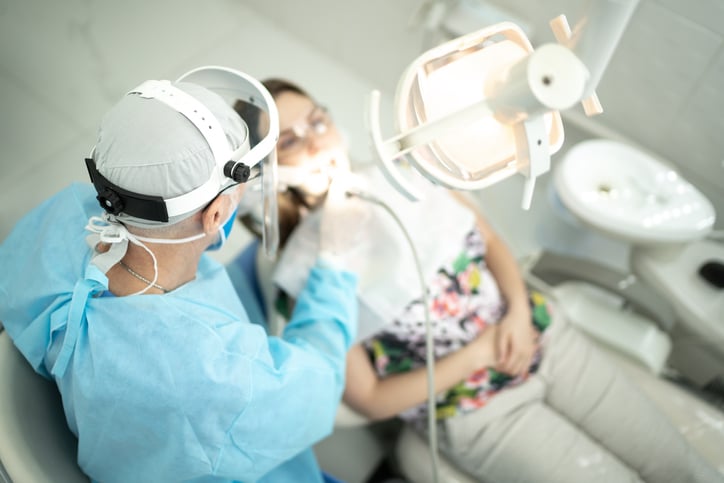 Stage 1: Dental Offices are Effectively Closed
During any type of sustained emergency such as the recent COVID-19 health crisis, dental offices may be forced to close to patients due to the close contact required with dental care. Starting quickly and without warning, many practices and practice leaders are caught off-guard by the myriad details required to ensure success in a very disruptive time. Clients still need to be notified of changes, staff members may need access to business applications and patient data — all while individuals may be unable to access their traditional computing resources. The best activity that you can take during a crisis is to ensure that you are communicating with all constituents appropriately: sharing only the details that each audience group needs to make decisions for the future.
Email and SMS text messages are often the primary modes of communication for dental practices, offering quick options for broadcasting information that will gain the confidence of your patients. Weekly team meetings suddenly need to be shifted to a virtual environment, which may necessitate vetting and testing new virtual meeting software packages. This can be particularly challenging when IT staff members are already scrambling in an attempt to work remotely or provide remote access to others. It's vital that you attempt to communicate multiple ways with clients, but without causing undue stress or frustration — emails, letters, updating your website and even placing signage on the exterior of your office space will all help grow the confidence of the public in your handling of a crisis.
Stage 2: Reopening Your Dental Practice
As you receive approval to begin reopening your dental practice, it's extremely important that you follow all standards and guidelines or you risk a negative impact to your practice. Staff members and the public may feel uneasy about returning to your services, enhancing the need for clear and consistent external communication and internal messaging. Office signs, updated sanitation procedures and changes to your check-in processes are all foundational to creating a clean and trusted environment in your dental practice. Staff members may need to be flexible and patient, helping individuals walk through unfamiliar processes.
Your technology team is likely to be involved in the communication efforts, defining new ways to reduce the required touches during check-in procedures. This could be everything from defining pre-admission surveys to automating digital communication and capturing patient responses appropriately and securely throughout the patient lifecycle. There are added complexities due to the limited time available for implementing these changes — and the high potential risks for dropping security or not maintaining adequate cleansing procedures.
Stage 3: Reestablishing Your Dental Practice
As your practice slowly reintroduces patient care into your daily routines, there are likely to be some long-term changes that involve your technology teams. Pre-admission surveys that are sent via SMS text message or email help streamline operations and reduce patient frustration and delays during visits — making this an important technology to continue even after stringent government requirements have eased. Evaluating your crisis plans during the period leading up to greater capacity allows your IT team and internal staff an opportunity to adjust processes to best fit the needs of your growing organization. Staff are likely reaching out to patients to reschedule appointments, answering many questions regarding security procedures and protective gear throughout the day. This need for repetition and staff time can be limited by introducing a more automated workflow that includes text-based and email reminders and online check-in procedures.
Business continuity strategies don't happen overnight but require continued care and diligence to ensure that your practice successfully emerges after the challenges of recent months. Through effective communication with patients and staff, consistency of processes, and strong support from IT support teams, your practice will be able to rise to the evolving challenges in the marketplace and differentiate your practice from competitors. Create staff alignment, confidence, and ensure that your practice is compliant with all government regulations when you work with the knowledgeable professionals at NOVA Computer Solutions. As an IT managed services provider that specializes in working with dental practices, we are very familiar with the problems and opportunities available to your teams. Contact the NOVA Computer Solutions team at 703-493-1796 or via email to info@novacomputersolutions.com to schedule a complimentary consultation and learn more about the benefits of having secure, reliable, and trustworthy technical support for your practice.