Running a dental practice in the modern world comes with more risks than ever before. You are not just dealing with internal management concerns and fierce business competition from other businesses – you also have to manage today's risks.
That means mitigating a range of potential problems, from your security and compliance to quality of care and documentation.
Do you know what your risks are? If so, what are you doing to manage them?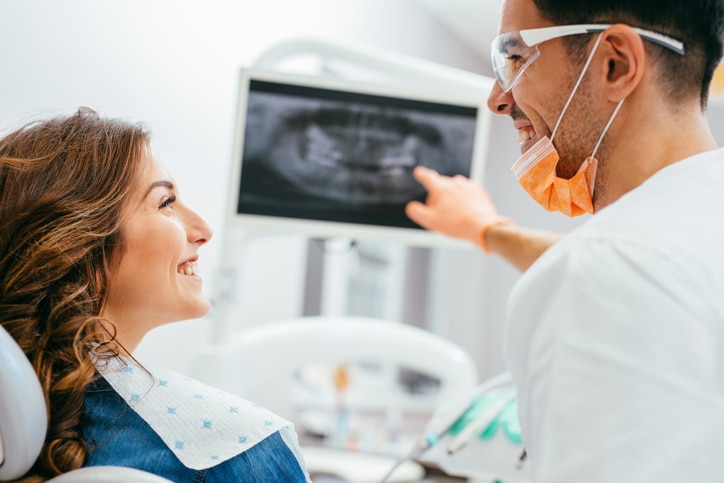 Dental Practice Risk Management Is About More Than Cybersecurity
While cybersecurity is an undoubtedly important part of your risk management considerations, it's not the sum total. There are inherent risks associated with the way you operate your practice, provide care, and more:
Supervised Neglect: This can be a complicated topic to consider. Letting your patient (or their benefits plan) determine the course of treatment can be seen as a failure to diagnose or treat.
Maintaining A Standard Of Care: While you can't actually regulate for the "standard of care," the definition stands: a reasonable provider with comparable education would make the same decision. For example, if you were to let your patients refuse perio treatments, it could put your practice at risk, as well as the patient in question.
Appropriate Documentation: Documentation is the basis for your defense in risk management. Billing a patient for one procedure and giving them another may work within their coverage, but it puts your practice at risk. You need clear and detailed documentation supporting every action you take in the care of a patient.
Beyond your general operations and practices, you also have to consider risks to your HIPAA compliance…
Are You Managing Your HIPAA Compliance Too?
You are required by HIPAA to regularly revisit your HIPAA compliance policies and procedures in order to make sure they keep in line with changes to regulations, and changes within your organization.
While you could do so on your own, it's smarter to have your IT company assess your HIPAA risk potential. This assessment should involve the following considerations:
It should consider any and all risks to any and all PHI, in terms of its privacy, availability, and integrity. It's important to determine and document where the data is being stored, received, maintained or transmitted.
Potential threats need to be identified and documented, as well as their probability of occurring, and the result of their occurrence. Using this information, a theoretical level of risk needs to be determined.
Your cybersecurity needs to be assessed and confirmed to be in line with HIPAA standards (if not stronger and more extensive).
All information involved in and resulting from the assessment needs to be documented, and formed in an Action Plan, to address any potential noncompliance and mitigate risks.
All this is to show you how complicated risk management is. While cybersecurity is a key consideration, you also have to keep your compliance and general practices in mind as well.
The good news is that you don't have to manage your risk on your own…
Have Your Risk Assessed And Managed By An Expert
Are you unsure of how secure and compliant your practice's IT systems are? Your systems deal with a lot of sensitive and valuable information, and as such, they can often be targeted by viruses, worms, spyware, and other malicious digital threats.
NOVA Computer Solutions will assess your risk for you — as a part of our managed services, we will take an unbiased look at your systems and compliance posture to determine where they may be vulnerable to external threats.
The key objective of this assessment is to find any vulnerabilities that can compromise the overall security, privacy, and operations of your network.
What Does A Risk Assessment Include?
With our Risk Assessment service, NOVA Computer Solutions will examine your IT systems, compliance practices, and more to determine whether your company's data is properly protected.
We will analyze the following aspects of your IT environment to determine:
Whether you have the necessary components in place, including firewalls, antivirus software and more.
Whether your systems are up to date, and patched with the latest security fixes.
Whether cloud-based data is protected as well as locally stored data.
Whether you have a viable backup in place that you can rely on in the event of data loss or corruption.
Whether you're HIPAA compliant.
Work With A Risk Management Expert
Your dental practice needs an efficient, stress-free environment to provide the best care for patients, but that's difficult to achieve when your technology isn't working properly.
NOVA Computer Solutions designs our services strategically so that you're able to leverage the most power from your technology to improve your practice. With a reliable and skilled IT partner, you stop worrying about technology and focus on providing care for your patients.
We provide solutions for the dental field that are geared specifically to your needs, making sure that your practice is always functioning at its absolute best. That means your time is effectively managed, patients are provided with the highest quality of care, and your practice is always kept compliant with HIPAA and other government regulations.
Get in touch with NOVA Computer Solutions to get started.