Move Your Dental Practice From On-Premise Systems To The Cloud
The cloud has a lot to offer dental practices like yours. Contact the NOVA Computer Solutions team to start the discussion about what the cloud will do for your dental practice.
The cloud can play an important role for dentists and their staff members in the modern dental world.
It has replaced traditional dental operations with digital alternatives that help to lower costs and allow for data integration and analysis, resulting in higher efficiency.
NOVA Computer Solutions offers expert support for cloud technologies geared to address the needs of today's dental practices. Our cloud support services are based on a tailored approach to workflow, ensuring that you have the correct version, setup, and integration to do what you do better.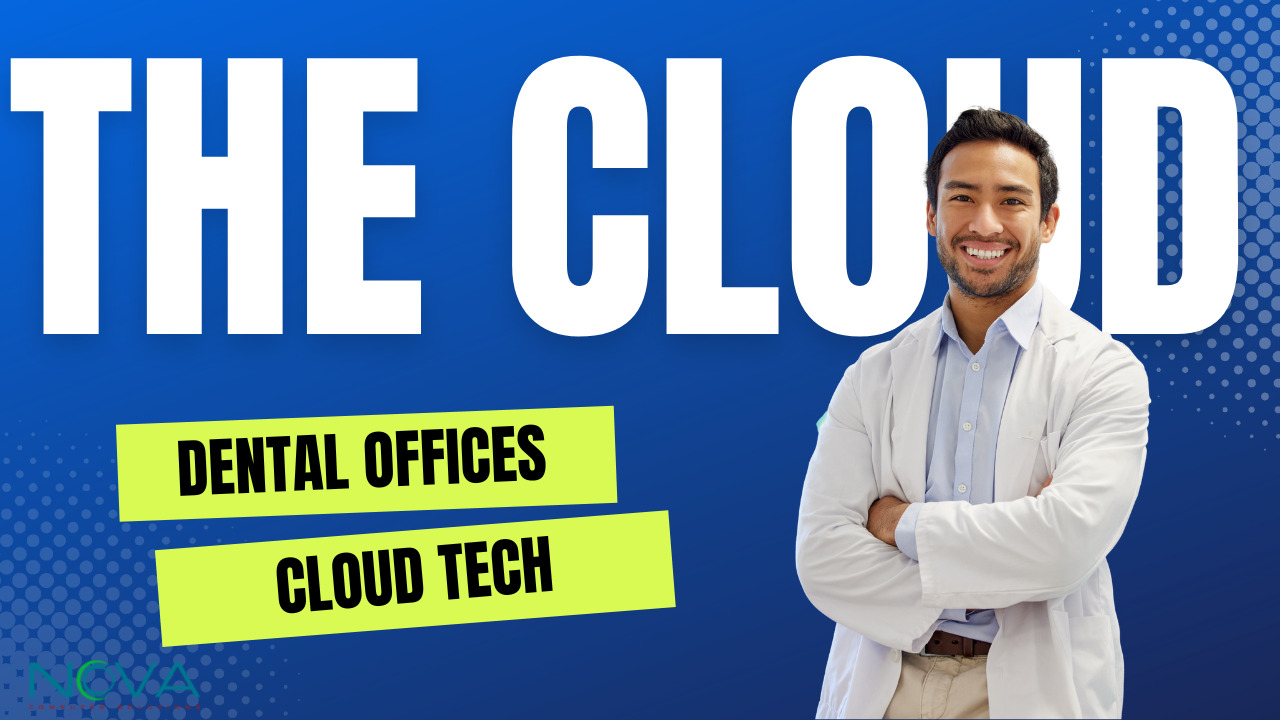 What Is The Cloud?
The cloud is a network of technologies that allows access to computing resources, such as storage, processing power, and more. That's where the data is—in these data centers worldwide. Which data center your data is in depends on what cloud service provider you're working with.
What Does On-Premise Mean?
On-premise refers to IT infrastructure stored, managed, and accessed directly on-site at your practice. If you host a server in a server room at your practice, your systems are considered "on-premise".
What Are The Benefits Of Moving From On-Premise To The Cloud?
By moving your data and apps off-premise through the cloud, you gain several key advantages for your practice:
Seamless Multi-Site Data Access
One of the most significant benefits of the cloud is connecting multisite practices for simple and secure data access. Staff members at different locations can access and share patient information regardless of the physical location to which the patient goes.
This means you don't have to email X-rays or patient notes. Every patient's record is at our fingertips, entirely accessible, and kept up to date through the cloud.
Direct Data Access During Emergencies 
Cloud-based patient data means that dentists can access files whenever they need to, so long as they have an Internet connection. In an emergency, a dentist can review a patient's file from home, while on vacation, or anywhere else.
Automatic Updates
Did you know that one of the most common ways cybercriminals get into a network is through vulnerabilities in out-of-date software? That's why your apps and programs need to be updated.
In an on-premise system, managing patches and updates can be a lot of tedious work. However, your apps are hosted in the cloud. Your updates are run automatically. This boosts your apps' security and functionality without requiring you to take on any extra work.
Simplify Third Party Management
Working with third-party vendors is often necessary for today's dental practices, but doing so isn't always easy. Many will require a direct connection to your physical on-premise infrastructure.
The cloud simplifies this arrangement; third parties can be given fully authorized cloud access to the data they need to fulfill their role.
Remote Work Capability
This cloud feature allows you to hire remote employees to handle back-office and admin tasks. That means you can outsource the office work to capable team members without needing them to work onsite or expand your infrastructure to host them at your practice.
What Else Can You Gain By Moving To The Cloud?
High-Level Support
IT doesn't just mean hardware and software—you need the right people too. With the cloud, you benefit from an expert team of technicians working Tier 2 support and above to ensure the cloud services you rely on are functioning properly around the clock.
Enhance Your Cybersecurity
By storing your data offsite in a data center, you access various digital and physical security measures to ensure they're safe from all threats.
Managed firewall, antivirus, antispam measures, onsite security personnel, and more to ensure the security of your server information so that you can do your work without having to worry.
Enhance Business Continuity
By storing your hardware off-site, you gain a valuable contingency against any on-site emergencies.
Power outages, malware attacks, or other disasters can strike your practice at any time, but by having your IT infrastructure managed safely off-premises, you have one less thing to account for during an emergency.
How Do You Move From On-Premise To The Cloud?
Since its introduction to the business world, the cloud has established itself as one of the most integral technologies in modern society.
In the private and professional worlds, the cloud has delivered various benefits. However, a lot of organizations are hesitant to undergo migration…
Why Would You Be Hesitant To Migrate To The Cloud?
There are several concerns related to cloud migration…
During the transition, you could lose some key files without backup or redundancies to replace them. The already expensive migration takes longer than you expected and adds what you thought was avoidable downtime to your staff's work life.
Once it finally gets installed and launched, you find out the platform is overly complicated and difficult to learn, leading to more downtime for your staff.
Does that mean you should forget about the cloud and what it could do for you? Of course not. It just means you have to plan your migration carefully…
What Is Migration?
Migration is moving some or all of your data and applications into the cloud (that is, to a data center or a cloud-based infrastructure provided by a cloud service provider such as Amazon Web Services, Microsoft Azure, or Google Cloud).
You can move some of your applications or your total organizational infrastructure where all your computing, software, storage, and platform services are transferred to the cloud for any time, anywhere access.
Cloud migration helps you achieve real-time and updated performance and efficiency. However, a cloud migration requires careful planning and implementation to ensure the cloud solution is compatible with your organizational requirements.
Allow NOVA Computer Solutions to help.
How We'll Manage Your Migration
As your cloud partner, we'll help you evaluate cloud solutions, find the right one, and seamlessly migrate to it.
NOVA Computer Solutions will work with you to assess, design, implement and support cloud computing to increase and augment your capabilities.
We assess the cloud's value and impact to your practice before presenting you with a customized cloud strategy.
NOVA Computer Solutions Will Guide You To The Cloud
NOVA Computer Solutions helps clients evaluate their options and determine which solution best meets their needs.
No matter where you are with the cloud, our team of IT specialists can provide troubleshooting assistance or strategic advice, helping you leverage these cloud technologies' power to their benefit.
Migration Management
If you are unsure which solution is right for you or how to migrate all your workstations, we'll walk you through the entire migration process, handling each step along the way to ensure it goes smoothly.
Comprehensive Support
We offer onsite and remote support to help you resolve any sort of configuration and/or troubleshooting issues right away. If we cannot remotely resolve the issue, we will come onsite to help you out.
Employee Training
A vital component of the success strategy of any software offering is the ability for a practice's employees to understand it well enough to utilize it to its fullest potential. We are here to walk your staff through any new features or applications.
Find The Perfect Cloud Solution For Your Practice
If you're still undecided or want help with your evaluation, please feel free to contact the NOVA Computer Solutions team.
We help our clients evaluate their options and determine which solution best meets their needs. It's never been easier to start moving your practice to the cloud, and the benefits are clear: gain secure and seamless data access to improve the quality of care you offer your patients.
Schedule a complimentary consultation with the NOVA Computer Solutions team to determine which cloud solution is the right fit for you.