Just like patients need expert care from orthodontists like you, your IT systems need expert maintenance from the NOVA Computer Solutions team.
The fact is that, while technology helps the healthcare industry through the convenience of data storage and access, it also presents serious cybersecurity risks – healthcare organizations make up 33% of all cybercrime incidents across all industries.
The easier it is for you to access Protected Health Information (PHI), the easier it is for cybercriminals to do so as well. Don't make the mistake of assuming that just because you're not a major hospital that you aren't a potential victim – data is data. If you're an easy target, cybercriminals will find your orthodontics practice.
If you want to take advantage of the benefits that modern healthcare technology has to offer, then you have a responsibility to make sure it's properly secured against today's more common cybercrime threats.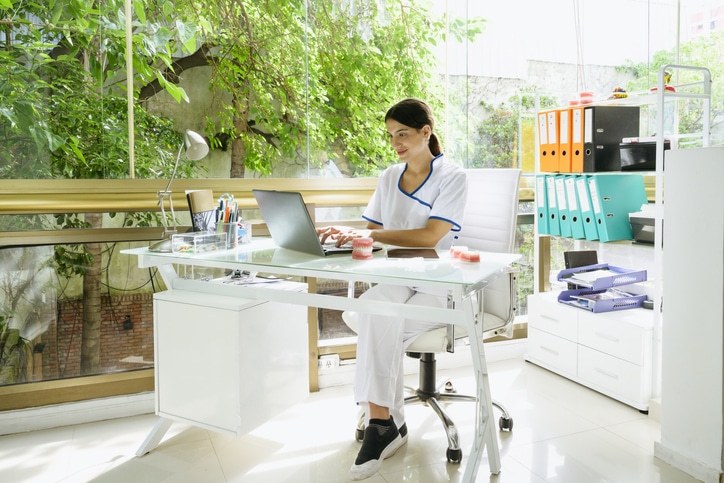 Is Your Practice Protected?
Not too long ago, hundreds of practices across the US were infected with malware. Over the course of a single weekend, hackers penetrated the target systems, and by the time staff came in for work Monday morning, their patient data was inaccessible.
Are you sure you're safe from attacks like these?
Depending on your experience with IT support so far, you may not know what is available to you. The old model was essentially an hourly support service. This traditional style of outsourced IT services works by fixing your computers once they're broken. In a nutshell, when something goes wrong — data loss, hardware failure, virus, etc. — you then get in touch with your computer repair company and have them fix it. The hourly model no longer works for businesses today.
Managed Services is the modern model for IT support – with NOVA Computer Solutions, you get access to a range of vital solutions:
Technology Maintenance
Comprehensive support for your orthodontics hardware and specialized practice management software, making sure your IT environment operates as expected.
Responsive IT Support
Responsive and effective support to answer your questions and address your concerns as they occur.

Data Protection
We make sure your patient and employee data is effectively protected from cybercriminal attacks, employing a range of cybersecurity solutions and maintaining a reliable data backup.
HIPAA Compliance Support
You don't want to have to worry about whether you're HIPAA compliant – allow us to take care of it for you, maintaining your cybersecurity and your compliance practices.
Project Management
No matter what IT project you need to undertake, we'll help to manage it from end to end – researching, purchasing, installing, and maintaining new hardware like computers, servers, and networking equipment.
Phone & VOIP Services
Get rid of your outdated landlines for good, replacing them with reliable, scalable, and feature-rich VOIP business phones.
Click here to get started or call us at (703) 493-1796.