Is Your Dental Office Ready to Handle Electronic Medical Records?
Dental offices across the country are struggling with the new data structures required to ensure patient privacy — and security. Don't risk your office falling victim to cybercriminals.  
The days when you could safely email patients about their dental records or to quickly ask a colleague for a consult are at an end, at least without a significant increase in your dental office's security and data privacy policies. Patient health records contain tightly protected information, and protecting electronic health records has become a sensitive issue affecting millions of dental offices throughout the country. Patient records change hands on a regular basis within your practice, from dental technicians to the front office and between dentists or diagnostic machines. With billing information, claims data, x-rays and patient details stored either locally or in the cloud, your practice must be ready for any eventuality in terms of cybersecurity and data privacy or you risk astronomical fees and punitive damages in the event of a data breach.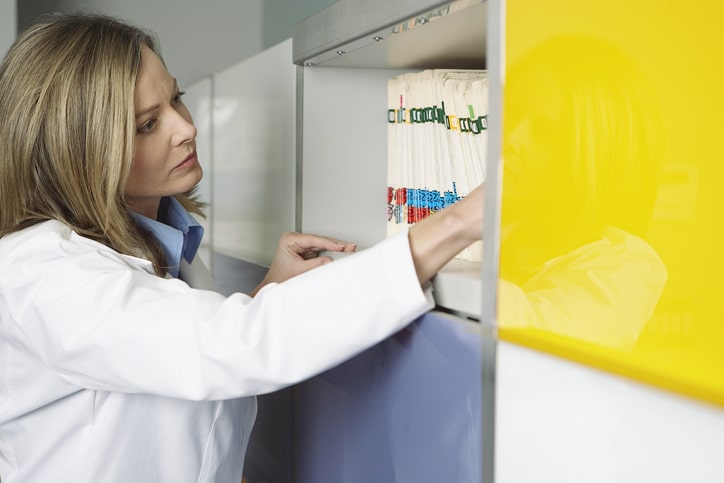 Adding Encryption to Patient Health Records
Following the HIPAA and HITECH guidelines for managing electronic health records (EHR) is a great start, but even these rigorous standards don't cover all eventualities. According to Dr. Mary Licking, chair of a working group of the Standards Committee on Dental Informatics, "Using an encrypted email system is the easiest and most efficient way of responding to patients' requests and complying with the law." With email as the default communication mechanism, dental offices are looking for ways to increase their overall cybersecurity posture and ensure that their email communications are fully encrypted and protected from data breaches and ransomware. While California is leading the charge and currently plans to require all healthcare providers to have the ability to transmit ePrescriptions, other states are not far behind. The requirements began as early as 2015 when dentists that did not demonstrate the use of these systems received a slight short-payment on their services from Medicare. It's unclear if these sanctions will continue or grow in the future. The one area where the government does not want to compromise is sending records via email, something that is tightly regulated at the national level. Dentists without a secure method of email in place risk significant damages to their practice in the event of patient data loss or a cybersecurity breach.
85% of Medical Offices are Using EHR and EMR
While the CDC notes that 85% of office-based physicians are already using EHR or electronic medical records (EMR), there is still a significant percentage of dentists that have not swapped to this type of record-keeping. California recently passed laws that require dental offices to catch up to these standards by 2020 — creating a time-based impetus for making the shift. While this hard push towards EHR and EMR has not filtered to the rest of the country quite yet, it's considered only a matter of time before more states decide to adopt these stricter electronic record requirements in an effort to standardize reporting and care throughout the country.
Improve Day-to-Day Operations with Electronic Records
Along with an improved level of security, electronic health records can also boost your dental office efficiency and billing accuracy. Since you are not relying on individuals to translate written information into a digital system for billing, you reduce the likelihood of an error and also speed the process along — which can help improve your overall billing cycle time. Fewer errors equal faster payments, from patients as well as from insurers. Patients also benefit from having quick access to their detailed medical records available to their care team instead of a single, printed set of documents that can only be accessed by a single individual and also run the risk of being misplaced. Prescriptions are faster and more convenient for both dentists and patients, with automatic transmissions to the preferred pharmacy instead of waiting on the physical delivery of the medicine.
Whether you need to review your current email and data security preparedness or want to discuss upgrading your current electronic health records platform, contact the professionals at NOVA Computer Solutions at 703-493-1796 to speak with one of our dental IT experts. We work with dentists throughout the Northern Virginia, Metro Washington DC and Maryland area to ensure you have access to the latest and most secure technology for dentists. You can always reach us online to schedule your complimentary initial consultation by filling out our quick contact form or chatting with our team.