Why Your Multi-Office Dental Practice Needs The Cloud
Communication, collaboration, and secure data access are key components of successful dental practice. Unfortunately, this becomes exponentially more difficult when you operate a network of multiple practices.
Do your staff members find it easy to work together between multiple offices? An uninterrupted flow of information is vital for the quality of care you deliver to patients.
Any business operating in multiple locations needs to be able to communicate and collaborate effectively. Every moving part of a business requires a seamless, synced connection to meet clients' expectations.
It's no secret that technology is the driving force behind effective collaboration for businesses, especially those in the dental world. Aligning your information technology solutions with your firm's projects and plans will be transformational in terms of returns and success, helping to enhance communication and collaboration.
It is been a pleasurable journey working with your firm without any stress and worry about technology.
When I was in the process of opening a new office for the practice dentistry, your firm was recommended to me for the computerization of my Office, Having years of experience with a paper based office behind me, I was going forward to go paper less, among lot of competition i choose your firm for the services , i was impressed with your knowledge, integrity and your desire to listen to your client and your honest desire to come up with the best possible solution for my needs. It is been a pleasurable journey working with your firm without any stress and worry about technology. Always appreciated.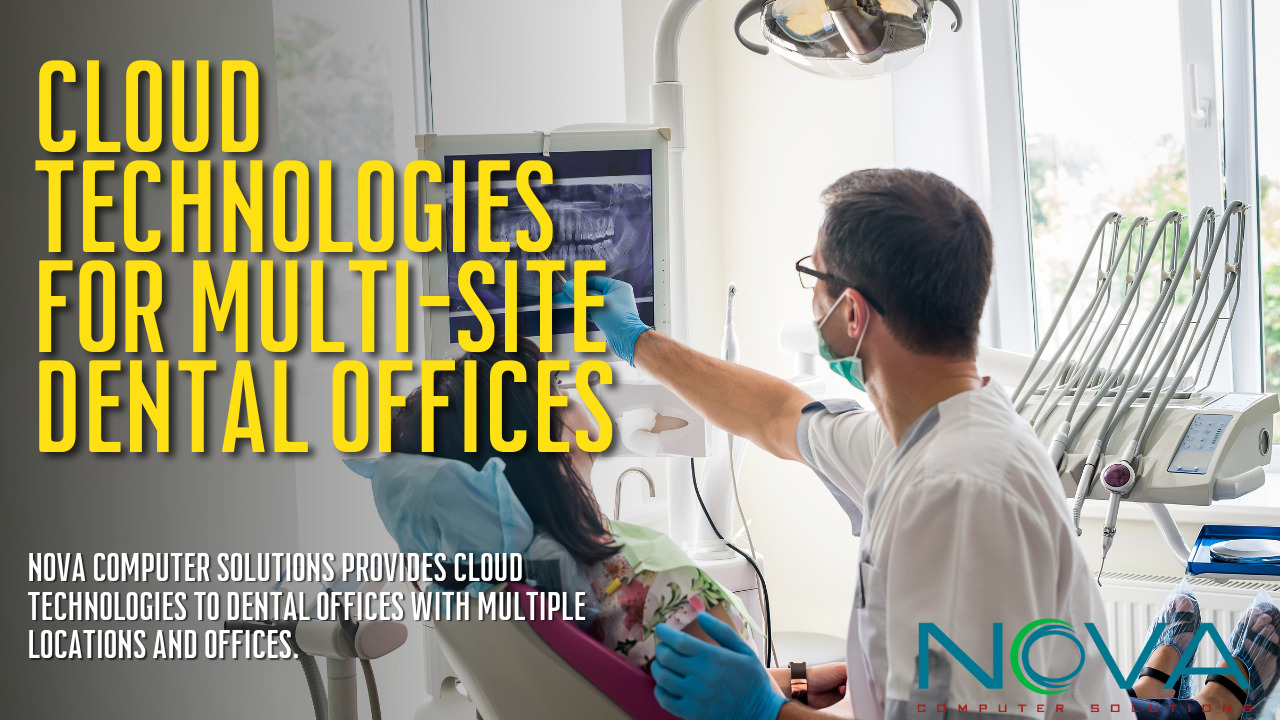 Harness The Cloud To Connect Your Practices
You need to use the cloud for your dental practice's work. The cloud is so saturated in the modern business world that, at this point, it's obvious that you need to be making use of it.
You're way behind the times if you're not already using the cloud for file sharing and storage. But if you're also failing to take advantage of the many features the cloud can deliver, then you're missing out on a range of benefits:
Empower Your Staff To Collaborate Efficiently
With cloud technology, your staff doesn't have to wait for each other to be done with their part of the document or project to tackle their own aspect. They can all work on the same project simultaneously to maximize productivity.
Scale Your Tech With Your Practice
Cloud services have the unique strategic characteristic of being able to stretch or shrink to suit your current level of demand. This is especially useful for practices of any scale that will change in size over time.
Keep Your Offices Connected
The cloud allows you to connect and view offices remotely from a single cloud platform. Depending on the scope of your practice and how far apart offices are, this could save you hours every day in travel time, allowing you instead to check in from the comfort of your office (or wherever else you have an Internet connection).
Streamline Reporting
The more offices you have, the more complex your billing and reporting become. By managing insurance claims and billing in the cloud, you remove unnecessary office-level steps and consolidate your financial processes in one place.
Promote Consistency
The cloud allows you to ensure all processes are managed and tracked across the entire network rather than at the practice level. That means you can ensure that different dentists working out of different locations are on the same page regarding how patients are communicated with and cared for. This will ensure you have a greater consistency of care and style across your entire network of practices.
Need Expert Assistance Connecting Your Practices?
Overseeing just one dental practice is hard enough. As soon as you acquire additional practices or open new offices until the same practice's purview, your IT becomes exponentially more complicated.
The NOVA Computer Solutions team is available to help you optimize your multi-location network of offices and/or practices.
How Can NOVA Computer Solutions Help Your Multi-Location Practice?
NOVA Computer Solutions understands how important it is to develop effective lines of communication and collaboration between the many locations in a practice like yours.
We'll help you develop an IT infrastructure that will tie your separate locations together and realize a range of benefits, including:
Business Phone Expertise
A robust business phone solution is the best way to bring your business' locations together.
We can equip you with a seamless communication platform technology that offers your business a range of new features. With our expert phone support, you'll enjoy a reliable line of communication throughout your practice's network.
Secure & Convenient Data Access
We can replicate your data through the cloud to each and every location that needs access to it, as well as ensure that your ePHI is properly secured and doesn't put you at risk of HIPAA noncompliance.
Service To Fit Your Needs
Our team can offer support that accounts for your practice's size and many locations without overlooking the small details that make a difference in the quality of service. We'll ensure you have everything you need to achieve your business goals by handling both the micro and the macro of IT service.
Looking For Help Modernizing Your Dental Practice?
NOVA Computer Solutions is here to provide expert assistance.
We're proud to deliver robust and secure cloud capabilities to our clients in the dental field, helping them harness the power of new technology and transform the way they work daily.
Get in touch with our team to learn more.