Are You Using Intraoral Cameras At Your Dental Practice Yet?
For as long as people have been getting into dentist chairs, dentists have been asking them to "open wide". Sometimes, no matter how wide a patient opens their mouth, and no matter how you position your light and mirrors, it can be difficult to get a look at that one tooth — but no longer.
The development of higher quality and smaller cameras has paved the way for intraoral cameras, which are small enough to sit on the end of an instrument and enter directly inside the mouth, streaming footage to a nearby device.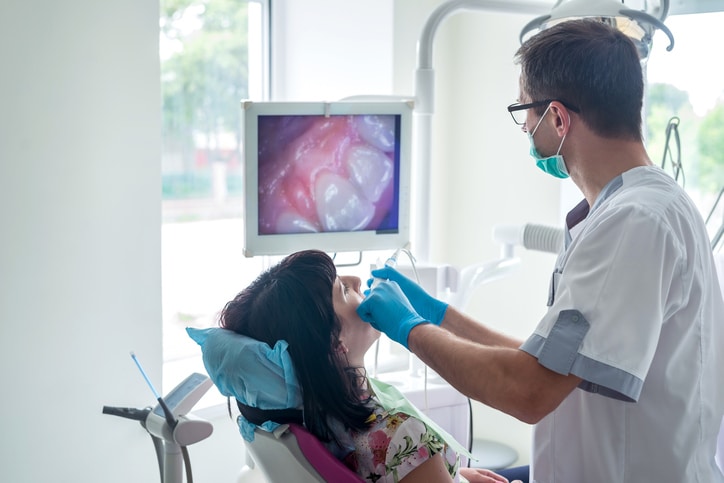 What Is The Best Camera For Dental Photography?
As the name suggests, the intraoral camera is ideal for dental photography. They are designed to be small enough to fit inside the oral cavity, capturing an image that is far more detailed than a dentist could get with the naked eye or a conventional camera.
Why Would A Dentist Use An Intraoral Camera?
There are plenty of reasons for a dentist to use an intraoral camera:
Extra Information & Detail: When compared with viewing the oral cavity with the naked eye, or even an expensive digital camera, an intraoral camera can provide much more visual information and detail to the dentist. In particular, the camera's smaller size and greater maneuverability will let dentists get an angle and view of specific areas at the back of the mouth that would only be visible with a mirror otherwise.
Access & Comfort: It's easier to see inside the oral cavity with an intraoral camera than it is by asking the patient to open wide. With an intraoral camera, the dentist doesn't have to crane their neck or work with a light and mirror inside the patient's mouth to get a look at the back of a specific tooth. The intraoral camera makes for a more comfortable experience in every way.
Patient Awareness: Dental photography gives dentists the opportunity to show patients what the inside of their mouths look like. They can give exact, detailed examples of plaque, tar, cavities, and other dental care concepts that patients would otherwise have to imagine. This will do a lot to improve patient awareness of their role in dental care.
How Much Does An Intraoral Camera Cost?
Just like conventional digital cameras, intraoral cameras can vary greatly in price. By some estimates, an intraoral camera can cost you anywhere from $50 to $5,000. The difference comes down to the quality of the lens, the functionality of the design, and additional features on the software side, which affect your experience as a user when exporting photos.
As you can expect, the more money you spend, the better the images and user experience will be. If you opt for the cheapest option available to you, don't expect much in terms of image quality and functionality.
Sign A Contract With NOVA Computer Solutions & Get A Free Intraoral Camera
Interested in trying an intraoral at your practice?
The NOVA Computer Solutions team can help. We specialize in IT support for dental practices and can help you and your staff harness new technologies to improve the way you care for patients.
In fact, when you sign a Managed Services Contract with us, we'll give you an intraoral camera for free! Get in touch with our team to discover what NOVA Computer Solutions can do for you and your practice.