Program Overview
NOVA Computer Solutions is always looking for new relationships to add to our satisfied family. As you know, a referral is one of the highest compliments you can pay to someone. It couldn't be easier to get started.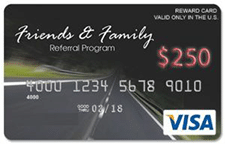 When you refer a qualified customer that is not currently or previously pursued by NOVA and they become a client, you will receive a $250 VISA Cash Card.
Who should you refer and what are the details?
If you have a colleague that is struggling with their technology, HIPAA Compliance or they have are having constant problems in the medical, dental or professional vertical, we are happy to help them. Get started today and help your colleagues with their technology by clicking HERE.