Outsourced IT & Technology Services For Dental Professionals
Since we opened our doors, NOVA Computer Solutions has proudly served the dental industry with the best IT services and solutions. From the beginning, our focus has been on providing our dental clients with everything they need to create a perfect environment for their patients and staff. We understand how important it is for dental professionals to be able to rely on their IT infrastructure, and we are dedicated to making sure that our clients have everything they need to run their practices smoothly.
We offer a wide range of IT services and solutions designed specifically for the dental industry. We are constantly updating our offerings to ensure we keep up with the latest technology trends.
Whether you need help with your practice management software, patient records, or your website, we can help. Contact us today to learn more about how we can help you take your dental practice to the next level.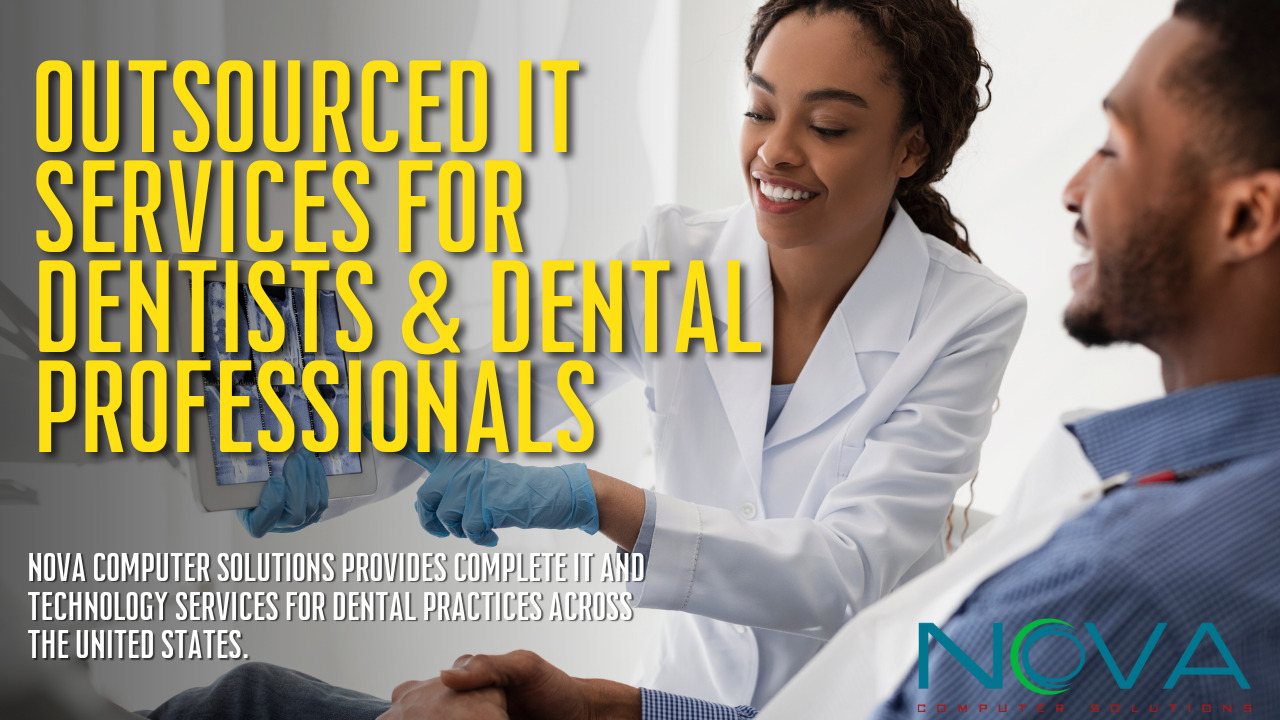 Why Choose NOVA Computer Solutions As Your Outsourced IT Services Team
Many IT services companies provide dental practices with the same long list of services.
So, what makes NOVA Computer Solutions different?
Our team of Dental IT experts has the experience and knowledge to provide your dental practice with the best possible IT services. We understand the unique needs of dental practices and can provide tailored IT solutions that will meet your specific requirements. In addition, we are committed to providing outstanding customer service. We believe that our clients should always come first, and we will work closely with you to ensure that your IT needs are met.
So, contact NOVA Computer Solutions today if you are looking for an IT services company that can provide you with the best possible IT solutions.
Members Of The Dental Integrators Association
NOVA Computer Solutions is a long-standing member of the Dental Integrators Association (DIA), the nation's only technology association dedicated 100% to technology firms focused on the dental industry.
As a leading member of the DIA, NOVA's team of dental IT professionals is always working hard to keep your practice ahead of the technology curve. From cybersecurity to the latest digital X-ray technologies, NOVA is committed to keeping your practice at the forefront of the dental industry.
With several years of experience in dental IT, NOVA is your trusted partner for all your dental IT needs.
The Dental Integrators Association provides its members access to some of the country's most experienced and knowledgeable dental technology professionals. This is especially useful for those who have practices in more remote or rural areas, as the Association's network of professionals can provide on-site assistance regardless of location.
This coverage is invaluable for ensuring dental IT systems are well-maintained and running smoothly. In addition, membership in the Association also provides discounts on products and services and access to educational resources and networking opportunities. The Dental Integrators Association is an essential resource for those serious about providing quality dental care.
Fully Managed IT Services Designed To Meet Any Budget
At NOVA Computer Solutions, we understand that every dental practice is different and has unique IT needs. Whether you are a small practice with a limited budget or a larger organization with complex technology systems, we will put together the right service program to meet your needs.
We offer a comprehensive range of services, from day-to-day IT support and cybersecurity solutions to dental application support and telephone services. We are your single source for all the technology services your dental practice needs. With over 20 years of experience in the dental IT industry, we have the expertise and resources to provide you with the best possible service.
Contact us today to learn more about our services and how we can help your practice run more efficiently.
Decades of Dental Technology Expertise
The dental industry is constantly evolving, and dentists must be at the forefront of technology to provide the best care for their patients. NOVA Computer Solutions provides IT services and technology consulting to dental professionals across the United States. We have a team of experts who are familiar with the unique needs of the dental industry and can provide sound advice on how dentists can use information technology and digital dental technologies to provide exceptional care.
We also offer a wide range of tech solutions to help dentists streamline their practice and improve patient care. When you partner with NOVA, you can be confident that you have a trusted technology advisor who is committed to helping you succeed.
Cybersecurity Protection For All Dental Clients
Dentists are under constant attack from cybercriminals who are eager to exploit any vulnerabilities in their systems. In addition to these ongoing threats, dentists face increasing pressure from industry associations to meet cybersecurity standards. Combine this with local, state, and federal compliance and guidelines, and it's clear that dentists today need a trusted cybersecurity specialist.
NOVA understands dentists' challenges regarding cybersecurity, and we're here to help guide you through this complex landscape. We offer a comprehensive suite of cybersecurity services that can be tailored to your specific needs, and we're always available to answer any questions you may have.
In today's increasingly digitized world, the need for cyber liability and risk insurance has never been greater. As hacking and data breaches become more common, businesses of all sizes are vulnerable to costly damages. In addition to the financial costs of recovery, dental practices may also face legal penalties, fines, and damage to their reputation. However, securing cyber liability insurance can help to mitigate these risks.
At NOVA Computer Solutions, we work with our clients to ensure they can qualify for this vital coverage. We also provide ongoing support to help them maintain their policy and prevent future breaches. By working with NOVA Computer Solutions, businesses can protect themselves from the potentially devastating consequences of a cyber attack.
Contact us today to learn more about how we can help you protect your dental practice from the ever-growing cyber threat landscape.
We have been using NOVA Computer Solutions for our dental practice for a few years. They provide exceptional service and are very quick to respond to any support calls for the very few times it is required. Dan and his staff are always there to get the job done!

Wong Family Dental College Park
Take The First Step And Call NOVA Computer Solutions
Are you searching for an IT company that works with dentists, oral surgeons, orthodontists, and all other dental professionals? If so, make the call today to NOVA Computer Solutions.
At NOVA Computer Solutions, we pride ourselves on providing quality IT services and IT support for dental practices. We understand the unique needs of dental practices when it comes to IT, and we are dedicated to providing the best possible service.
We offer a wide range of IT services, including data backup and recovery, cybersecurity, network security, and more. We also offer a wide range of IT support services, including help desk support and computer support.
Contact us today to learn more about our services or to schedule a free consultation. We look forward to working with you!